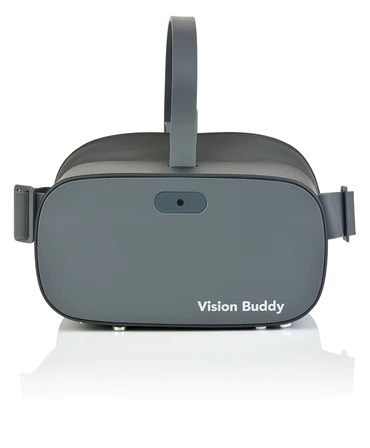 A wearable device that has helped the visually impaired community all over the world with various eye conditions  regain independence!
View your surroundings, see loved ones faces clearly, and enjoy hobbies again!
Read with the ability to zoom in and out with the CCTV Mini companion device or use the OCR mode built-in to the headset for reading text out loud from your favorite books, newspapers, and magazines.
Perform activities like changing the thermostat, operating a microwave, and reading medicine labels etc. with ease.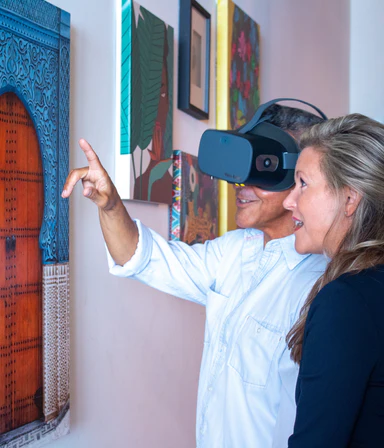 What is Vision Buddy?
Vision Buddy is the world's first all-in-one assistive device designed for the visually impaired to perform day to day tasks.
– Use the TV Hub to connect to your cable box, streamer or any other provider to see your favorite TV programs with enhanced image quality.
– Look at your desktop within the headset with the ability to zoom using Computer Link or read with the CCTV Mini.
– With a click of a button switch to magnification/camera mode and see the world around you. It's that simple!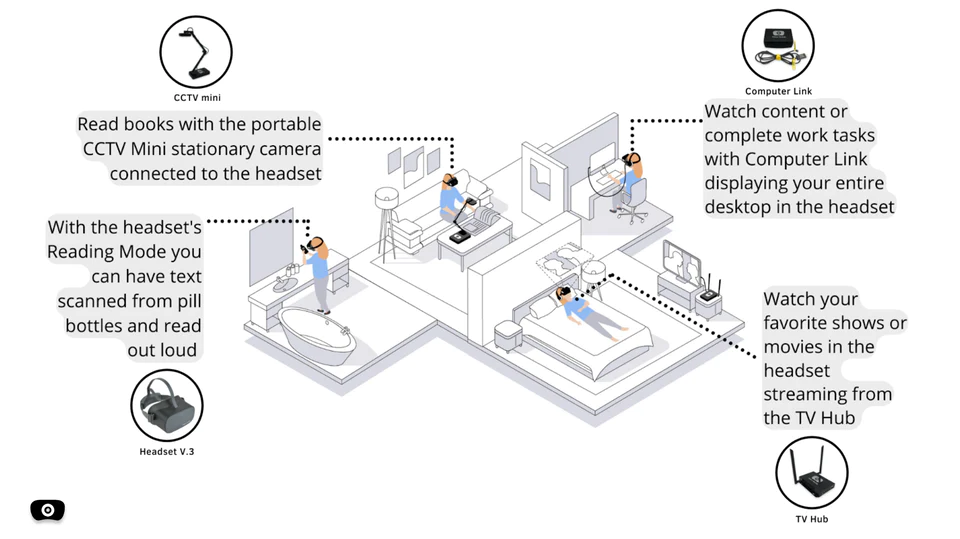 Step 1
Experience Vision Assistance of Tomorrow
Use the Vision Buddy headset with its three modes designed for TV/movie streaming, magnification, and reading
Step 2
Go Further With Vision Buddy V.3
Computer Link: Allows users to view their desktop from within the headset
CCTV Mini: Improves on previous reading capabilities as a stationary compact CCTV camera
TV Hub: Connects your headset to any cable box or streaming device
FAQ:
WILL IT WORK WITH MY TV?
Yes! Vision Buddy works with any TV setup. You can use it with cable or satellite provider box. It also works with all types of streamer boxes like Roku or Apple TV.
WHAT IS THE DIFFERENCE BETWEEN VISION BUDDY AND OTHER LOW VISION HEADSETS?
All headsets provide Magnification and OCR. Along with Magnification and OCR Vision Buddy provides you with the ability to watch your TV as it streams the image directly into the headset. No Wifi or apps needed! The Vision Buddy is an ultra-simple plug and play system.
WHY IS TV WATCHING BETTER ON VISION BUDDY?
Vision Buddy streams the image in real-time from your TV directly into the headset and maintains its HD resolution. We provide live image corrections and image enhancement which results in a high quality image projected at different magnification levels onto the eyes of a low vision person with a 90 degree field of view. Other products use a camera for TV watching which results in loss of image quality. Even if you have a the latest TV using a camera to look at a TV screen causes major image loss, color loss and blurring.
WHAT ABOUT SOUND WHILE WATCHING TV?
We realize that with vision loss there is some hearing loss also. Vision Buddy has built in stereo speakers that provide high quality sound close to your ears. If you want to watch TV more privately you can also connect headphones.
HOW DOES THE MAGNIFIER AND OCR WORK?
Vision Buddy is not just a TV watching system it also is a very powerful digital magnifier with 10 Zoom Levels. You can look around the room, look at faces, look outside the window, read your prescription bottle and take it to a museum. To magnify simply press the Plus and Minus buttons on the side.
We also have an offline OCR, which means you don't need Wifi to use it. Simply take a picture of the text by pressing the mode button and it will read it back to you out loud.