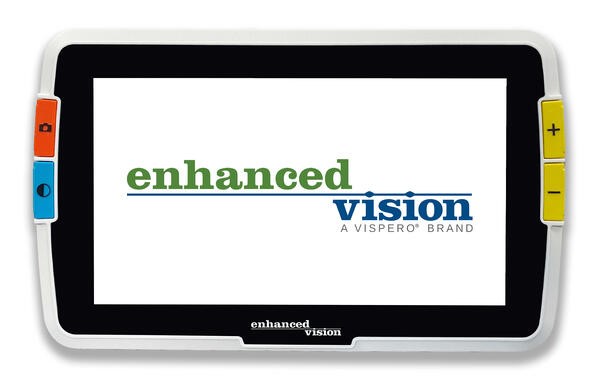 Introducing: The New Amigo! ….. for Low Vision Users.
With Enhanced and design Features.
Amigo makes undetectable text visible again with the help of Dynamic Contrast, a proprietary feature that enhances the contrast of similar colors and provides sharper, clearer, and more defined images. View enlarged images on a generous, 8-inch widescreen LCD, offering a large viewing area. Lightweight and easy to use, simply place it directly on your reading material or hold it up to view objects at a distance. Adjust magnification and contrast with an easy press of a button. Read price tags, menus, labels, street signs, and more, anywhere!
Amigo Features:
• 8" High-resolution LCD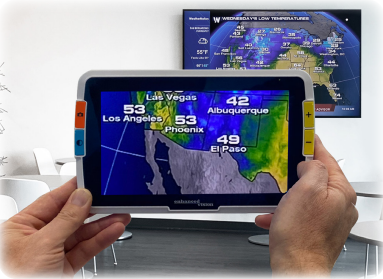 • 2 HD cameras for desktop and distance
viewing
• Live Image Panning – Pan through a live
image without moving the product
• Built-in rechargeable battery provides up
to 3.5 hours of continuous use
• Adjustable magnification up to 30x
• Line Marker and Masking features
• 24 available color modes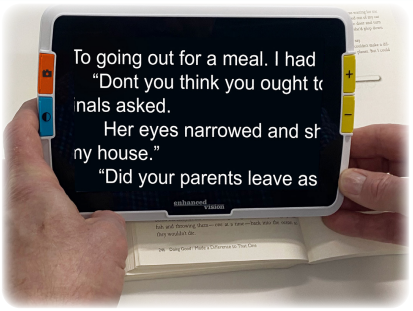 • Image Capture with Save Capability
• Video output over USB-C port
• Easy-to-use large tactile buttons
• Carrying case included
• 2 year warranty
All New Visual Display Settings Include:
• Dynamic Contrast – Provides a sharper,
clearer and more defined image
• Edge Effects – A function that makes the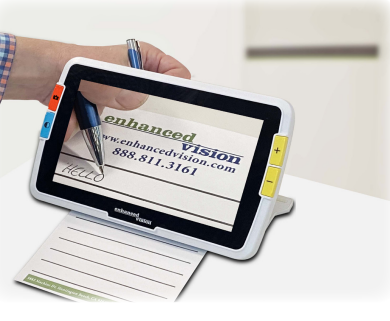 edges of objects in an image stand out
• Color Blindness Filter – A feature that
assists with color differentiation in real time
• Light Sensitivity Filter – A feature that
mutes the lighting of very bright colors
Special built-in filters improve
visibility of image colors for color
blindness and reduce brightness
without affecting image visibility for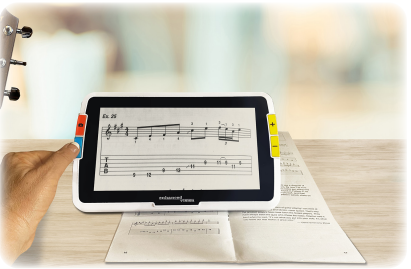 users with light sensitivity.
Read mail, magazines,
newspapers, labels, books, view
family photos, and objects at
varying distances.
Amigo offers two desktop
hands free positions, allowing
you to easily read, write, pay
bills, and work on hobbies.