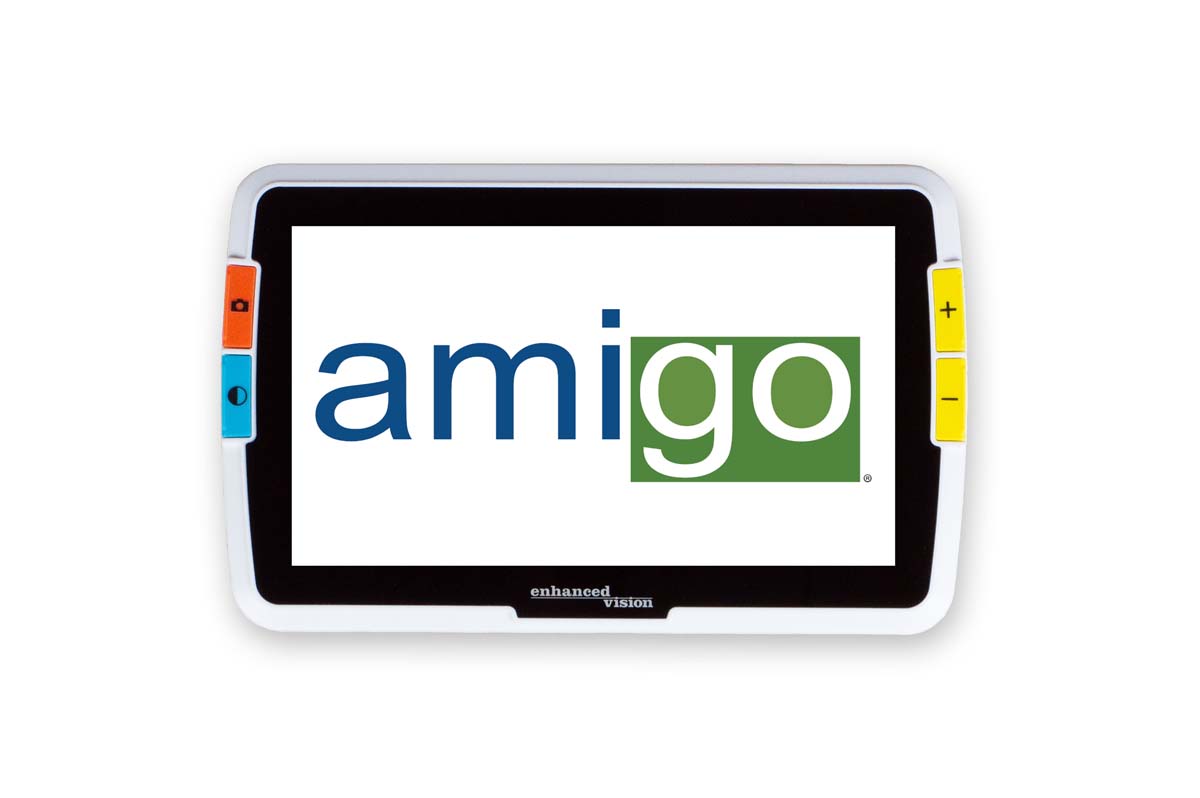 Introducing: The New Amigo 8! ….. for Low Vision Users.
Portable HD Desktop Magnifier On The Go
High Definition • Lightweight • Portable
Amigo makes undetectable text visible again with the help of Dynamic Contrast, a proprietary feature that enhances the contrast of similar colors and provides sharper, clearer, and more defined images. View enlarged images on a generous, 8-inch widescreen LCD, offering a large viewing area. Lightweight and easy to use, simply place it directly on your reading material or hold it up to view objects at a distance. Adjust magnification and contrast with an easy press of a button. Read price tags, menus, labels, street signs, and more, anywhere! Special built-in filters improve visibility of image colors for color blindness and reduce brightness without affecting image visibility for users with light sensitivity.
Amigo offers a convenient hands-free desktop position allowing you to easily read, write, pay bills, and work on hobbies. A lightweight, portable design makes Amigo the ideal companion when you are at home or on the go.
Amigo Features:
8-inch high-resolution LCD with large field of view
Adjustable magnification up to 30x
Two high-definition cameras for desktop and distance viewing
Live Image Panning—pan through a live image without moving the product
Built-in rechargeable battery provides up to 3.5 hours of continuous use
Line Marker and Masking features
24 available color modes
Image capture with save capability
Video output over USB-C port
Easy-to-use large tactile buttons
Carrying case included
2-year warranty
Display:
Type: 8-in. diagonal TFT display
Resolution: 1280 x 720
Physical Dimensions: 9 x 5.56 x 1 in, 228.6 x 141.2 x 25.4 mm
Weight: 1.63 lbs., 0.74 kg.
Close Magnification: 1.8x – 30x
Distance Magnification: 1.0x – 18x
Warranty: 2 years
Environment:
Operating Temperature: 32 ˚– 104˚F (0˚ – 40˚C)
Storage temperature: 14˚ – 131˚F (-10˚ – 55˚C)
Battery: Li-ion Rechargeable, 3.7 V, 7600 mAh, 28.12 Wh
Estimated Charge times: ~4 hours
Estimated Usage Times: Up to 3.5 hours continuous use
Connections: USB-C, 3.5mm audio
Power Supply: Adapter Technology Co., LTD. ATM012T-W052VU
Input: 100-240VAC 50-60Hz
Output: Max load: 5.1 V 2 A
**All times listed are approximate. Actual charging and usage times may vary depending on the life cycle remaining on the battery, LCD brightness setting, and other variable factors.
In the interest of continuous product improvement, specifications and/or minimum system requirements are subject to change without prior notice.