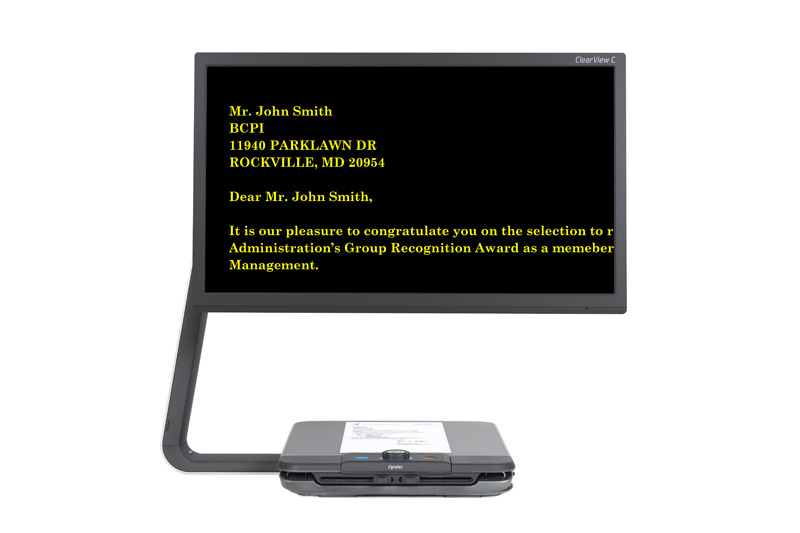 Overview
The new Optelec ClearView C Speech is a unique desktop video magnifier that is designed to improve your reading experience. Select your preferred reading voice and sit back, relax, and listen to documents as they are read aloud. Combining a clear voice with magnification or high contrast makes reading so much easier.
C-ing without limitations
When we started to develop this desktop video magnifier, we wanted to eliminate all of the difficulties users experienced. After extensive research involving our clients, we came up with a completely new design.
Read long documents with Text-to-Speech
The ClearView C Speech can instantly convert any printed text into speech. It makes it possible to have access to information in a way that is most comfortable and easy to you. Especially long texts are now easy to read.
Point directly at columns or words with Point & Read
To scroll through documents, swipe with your finger on the touch screen and select the text of your interest by simply pointing at a paragraph, column or word. It is that easy.
See the whole page and navigate quickly
The ClearView C Speech displays full pages and automatically identifies the document layout. This ensures that you navigate quickly, you always know where you are and never lose your place.
Store your documents or view your favorite photos
With the ClearView C Speech, you have the freedom to save important letters or books or view your digital photos. Store the documents or view your photos on a SD card or on a USB drive and access them when they are needed.
Choose for comfort and design
The ClearView C is designed to make reading more comfortable and to complement the interior of your home. The high quality materials and sleek design provide a contemporary look that is inviting in any room.
Specifications
Continuous magnification: 1.5X – 75X (optional: up to 170X)
Superior High Definition 1080p video processing for ultra sharp and vivid images
24-inch full color TFT widescreen display
Point & Read functionality: intuitive touch interface
Overview: full letter page viewing
Assistive reading with automatic text zone recognition
Fast text recognition (OCR)
Over 60 reading voices in 30 languages
Saving and opening documents on a SD card or USB stick
Large icon and large font menu
Volume control
Speed control
Digital photo viewer
Built-in stereo speakers
SD card slot
USB port
Headphone connector
Adjustable document viewing modes:
– Full color photo mode
– 16 selectable high contrast color combinations to improve contrast for better visibility
– From 1 to 4 selectable color combination presets
Optional: large Comfort table top; ideal for reading larger documents or doing craftwork (see 'Accessories')
Adjustable brightness
Adjustable contrast
Overview function
Focus lock
Position locator
Reading lines
Window / blinds
Adjustable setup:
– Standard (Compact) setup, ideal for daily use
– Comfort setup, ideal for reading large documents, such as newspapers and doing craftwork
Integrated lighting for even illumination, and elimination of reflections when reading glossy documents
Easy-glide reading table with X and Y direction adjustable friction and X and Y brake
PC connection to switch between ClearView C and PC image
Dimensions base unit footprint: 42 x 51 cm  / 16.5 in x 20.1 in
Weight: 18,9 kg / 41.7 lb
Accessories:
The Comfort Table Top is an optional accessory of the ClearView C desktop video magnifier. It provides more space to place large documents on the reading table.
The removable  Control Pad has three simple buttons on the top. To access the advanced functions the Control Pad can be reversed.
Powered by two coin cell batteries
Basic functions: On/Off, Zoom/High Contrast, Pointer