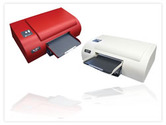 Emprint SpotDot is the world's only Braille and color ink embosser – now made faster!
Twice as fast as the first Emprint™ model – now 50 CPS!
New easy-to-use operator panel with tactile buttons
Choice of case colors – fire or ice (red or white)
Uses the same paper and ink cartridges as an HP Inkjet printer
Printing Speed:
Emboss only: 50 CPS
Ink and Emboss: 40 CPS
Ink Printing Resolution:
Ink Print Quality:
Emboss Printing Resolution:
Embossed Braille Dots:
Adjustable: heavy, normal, light
Embossed 3D dots:
8 grades including Braille dot height
Replacement Cartridges:
C6656A Hewlett Packard Type 56 black
C6657A Hewlett Packard Type 57 tri-color
Paper Sizes:
A4
US Letter (8.5″ x 11″)
Legal (8.5″ x 14″)
Paper Weights:
Letter: 20 to 28 lb (75 to 105 g/m2 )
Envelopes: 20 to 24 lb (75 to 90 g/m2 )
Banner: 16 to 24 lb (50 to 90 g/m2 )
Card Stock: up to 110lb (200 g/m2 )
Photo Paper: up to 130 lb (230 g/m2 )
Paper Handling:
150 sheet input tray (copy paper )
60 sheet input tray (Braille paper or card stock )
up to 20 envelopes, labels or banners.
Connectivity:
Compatibility:
Dimensions:
Height: 6.7″ (170 mm)
Width: 23.4″ (596mm)
Depth: 16.8″ (427mm)
Weight: 24.4 lb (11 kg)
Operating Environment:
Recommended Temperature: 59 to 95 °F (15 to 35 °C)
Storage Temperature: -4 to 158 °F (-40 to 70 °C)
Humidity: 20 to 80% RH
Power requirements:
100 – 240 VAR (+/- 10%), 50/60 Hz (+/- 3%)
Power consumption:
Stand-by: 12 watts
Average ink printing: 26 watts
Average embossing: 64 watts
Heavy embossing: 110 watt