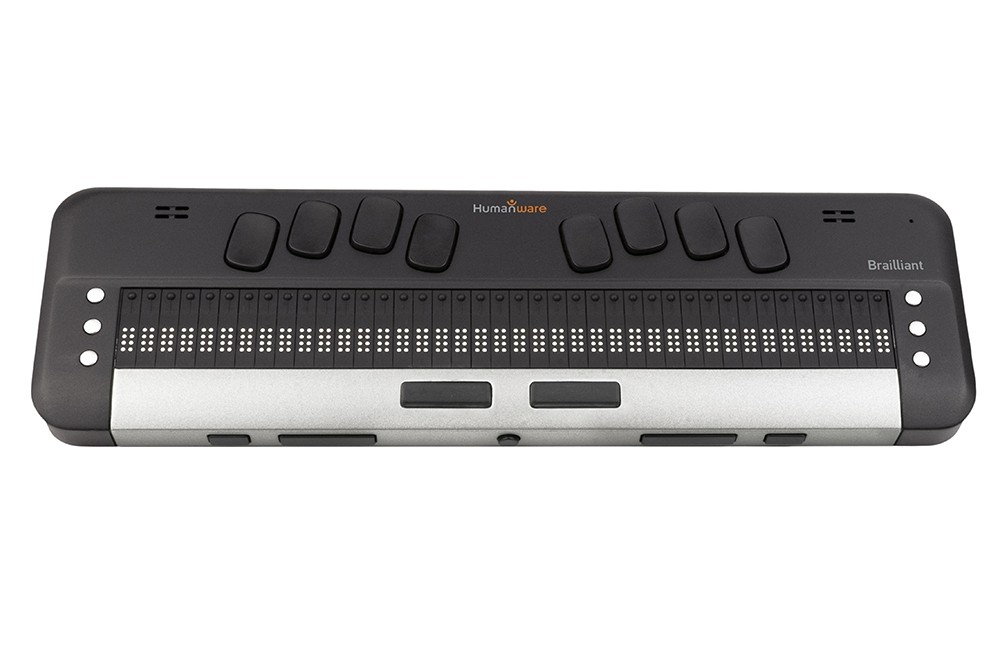 Brailliant BI 40X Braille Display
Quick Overview
40 cell refreshable braille display with standalone applications
Equipped with Bluetooth 5 for a more reliable and stable connection
Connect to 5 Bluetooth devices and 1 USB as a braille display
KeySoft Lite – Intuitive and seamless user experience with standalone productive applications.
Onboard braille translation, allows to translate braille to print and vice versa
32GB Internal storage
Daisy book player
Victor Reader application– Download resources from Bookshare, NLS BARD and other libraries
Supports various file types including DOCX, DOC, TXT, BRF, BRL, and more
Basic notetaking – Use the ergonomic and silent Perkins style keyboard for making notes during meetings and classes
Switches between braille grades to aid user build proficiency in contracted braille.
Exam mode, removes access to the internal storage during an exam environment
More to come: Audio support will soon follow from a free upgrade. Listen to audio books, extending the availability to your favorite books and novels.
The following system languages are supported: English, French FR, French CA, German, Dutch, Italian, Norwegian, Swedish and Arabic.
Overview
The NEW, future-ready 40-cell refreshable braille device is designed with connectivity and productivity in mind. With the introduction of Bluetooth 5 Wireless technology the Brailliant BI 40X is the first to market braille display to take advantage of the robust and reliable connection, allowing for a pairing that is 2x faster and capable of 4x the distance over previous Bluetooth technology. The Brailliant BI 40X connects to multiple devices at once and delivers a smarter, more user-friendly experience to new refreshable braille display users.
User-driven experience with every stroke
KeySoft Lite is a user-friendly interface that lets you accomplish daily tasks through its onboard KeySoft suite of applications. It powers the Brailliant BI 40X providing an intuitive transition to those who have previously used any KeySoft-enabled HumanWare device.
Customizable braille experience
Have full control over your writing and reading experience by selecting the braille table of your choice. Hide or show applications by customizing KeySofts Lite Main Menu and configure thumb keys to match your braille reading preference. The Brailliant BI X series gives you flexibility through its storage options and the included onboard braille translation ensures compatibility with various file types. Saving, opening and transferring data could not be easier.
Carry your library in your pocket and read at your speed!
Connect via your Wi-Fi-enabled Brailliant BI 40X and use the Victor Reader app to download resources instantly from online libraries such as Bookshare, NLS BARD, NFB Newsline and many more to follow. Read a book effortlessly using the HumanWare signature thumb keys, or through the enabling of Automatic scrolling that will refresh the braille display to your reading speed.
Get Creative
Take notes during your meeting using the KeySoft Lite editor application, KeyPad. Easily switch to your connected screen reader to send emails or a text. The ergonomic keyboard of your Brailliant BI 40X, adds to the enjoyment of writing comfortably and in near silence.
What's in the box
Brailliant BI 40X Braille display
Micro fibre carrying case and should strap
USB-C Cable
Power supply
Printed quick start guide