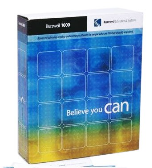 Kurzweil 1000 converts Text Documents to speech.
Kurzweil 1000 is award-winning software that makes printed or electronic text accessible to people who are blind, low vision or visually impaired. It incorporates communication and productivity tools to ease and enhance their reading, writing, and learning experience.
The software speaks text aloud in a variety of natural-sounding voices that can be modified to individual preferences. In addition, the software gives users the ability to write and edit documents, and to complete simple forms independently, as well as features for note taking, summarizing content, and outlining text.  Kurzweil 1000 delivers quick access to virtually any content, including online books, magazines, dictionaries, and encyclopedias, so readers can pursue the interests they want. They can also take their reading wherever they go by sending files to Braille note takers and embossers, and portable devices such as DAISY and MP3 audio players.  Kurzweil 1000 is easy to use for beginners, yet powerful and flexible for advanced users. Its wide array of features will save users time and help them gain independence whether at home, at school, or at work.
Kurzweil 1000 Features
Simple Forms Recognition and Completion
Our software provides easy access to most printed forms and presents them with the fields, labels, boxes, and text areas in the appropriate reading order. Fill in the fields, edit, save, and print – even insert your handwritten signature into the form, or any Kurzweil 1000 document, once it's scanned into your computer.
Choices for More Accurate Optical Character Recognition (OCR)
Two OCR engines, ScanSoft© OCR and ABBYY Fine Reader, provide the most accurate available OCR. For the best possible scanning results, Kurzweil 1000 also has the ability to correct many errors.  A noise filter option lets users ignore regions near the edge of a page that were incorrectly identified as text.
State-of-the-Art Speech Options
Clear, natural-sounding Voice Text voices from Neo Speech and ETI – Eloquence voices from Nuance deliver the highest quality text – to – speech (TTS ), making your reading a pleasure to hear. You can choose and adjust our many voice options to suit your individual preference.