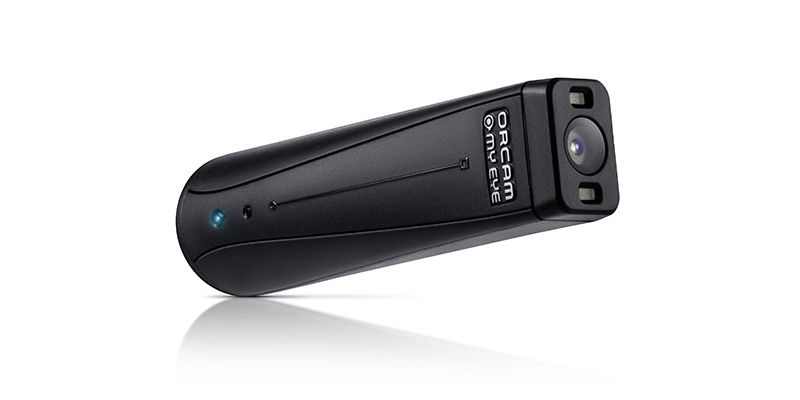 Text To Speech Wearable
MyEye Pro is small unobtrusive battery powered device that magnetically attaches to your existing eye glasses and provides a remarkable degree of audible vision assistance. The device uses a small camera and powerful onboard processing power to provide instant and discreet help with reading, face recognition, color, product identification and more. For text recognition only, please see MyEye R.
Designed to put the user center in the experience, it is amazingly intuitive and easy to use right out of the box. The device is able to communicate vital visual information regardless of surface, Money, Faces, Products, and Colors are all accessible via the simple to use device.
Heralded as game changing and the winner of the 2018 CES Last Gadget Standing Award, The device was recently redesigned as version 2 from the ground and truly represents the state of the art in what OrCam called "Artificial Vision Technology"
Features
Read Text
Including: newspapers, books, menus, signs, product labels and screens.
Recognize Faces
Real time identification of faces is seamlessly announced.
Identify Products
Identification of products, enabling an independent shopping experience.
Easy-to-Use
Intuitively responds to simple hand gestures.
Portable
Small, lightweight, and magnetically mounts onto virtually any eyeglass frame.
Works Everywhere
Tiny, wireless, and does not require an internet connection
Specifications:
Dimensions 76 x 21 x 14.9 mm/3 x 0.83 x 0.59 in
Weight Device: 22.5 gr/0.79 oz Device+Box: 553 gr/19.5 oz
Battery 3.7V DC, nominal 320mAH
13 megapixel Camera
Whats in the Box:
OrCam Device
Black OrCam carrying pouch with accessories containing:
 Charger (including travel adaptor plugs), glasses mount and mount kit, lens cleaning cloth, belt clip.
User Guide
User support refrigerator magnet.