Transformer HD – Portable Electronic Magnifier with Built In Wi-Fi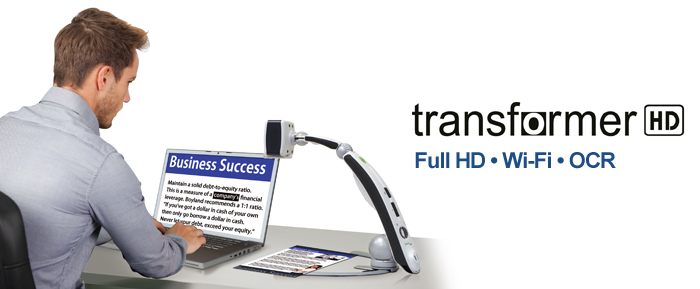 New – Now MAC compatible.
Transformer HD is a high performance portable video magnifier (CCTV), featuring a Sony ® Full HD 1080p 3-in-1 camera, Wi-Fi capability, and optional Full Page Text-to-Speech (OCR). Transformer HD features built in Wi-Fi, HDMI, and USB 3.0 connectivity for your laptop, desktop computer, tablet or monitor. Compatible with popular magnification software programs, Transformer HD is a portable and powerful low vision solution for school, work or home.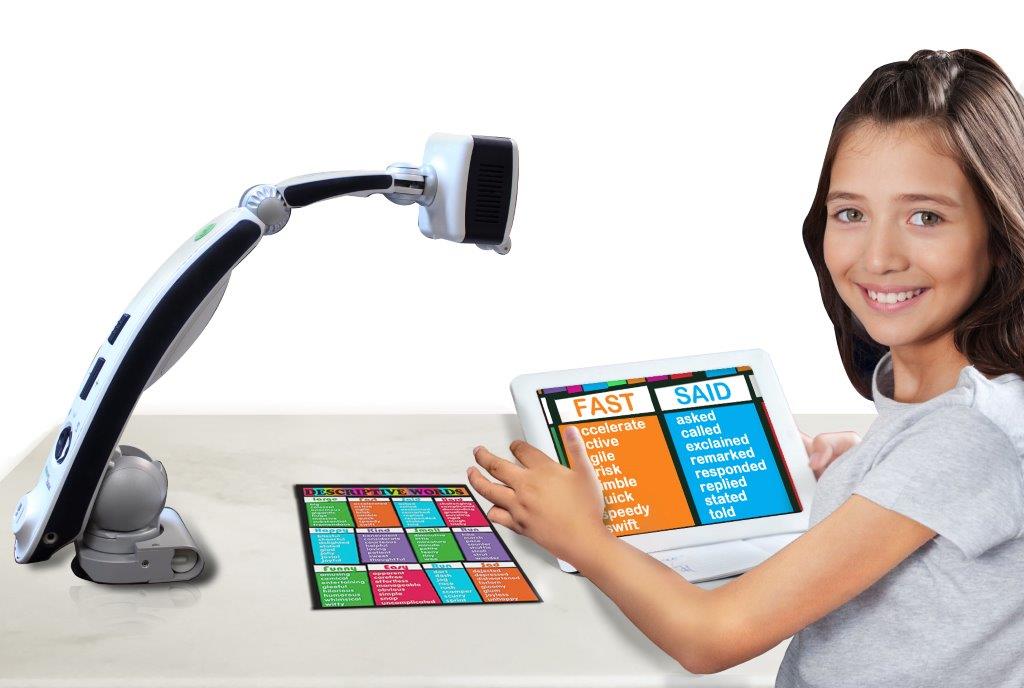 Product Features
Sony ® Full HD 1080p auto focus 3-in-1 camera for self-viewing, reading or distance viewing

4 desktop positions available: left, right, forward & upright

Magnification up to 30x on 24" LCD

32 viewing modes to optimize contrast and brightness

Connects via HDMI, USB 3.0 or Wi-Fi

Work in Full or Split Screen mode

Removable legs for suction base option

Record and save videos for later playback

Built in LED lighting

2 hour minimum removable battery with internal charger (spare battery and external charger also included)

Carrying Case included

2 Year Warranty
OCR Features
Optional 13 Megapixel Camera for accurate Full Page Text-to-Speech (OCR)

Adjustable magnification and color viewing modes in OCR

Reading preview lets you read the entire page or use your cursor to select where to begin reading

Multiple language recognition

Male & Female premium voices

Save & recall documents, pictures, and export files to your computer
Specifications 
Product Measurements
Opened in Reading Configuration

Length: 15.4 inches (39.1 cm)

Width: 16.0 inches (40.6 cm)

Height: 13.5 inches (34.3 cm)

Fully Closed Configuration

Length: 13.5 inches (34.3 cm)

Width: 4.8 inches (12.2 cm)

Height: 4.9 inches (12.4 cm)
Camera:   CCTV Camera & OCR Camera (On Enabled Units)
Product Weight::  3.45 lbs = 1.56 kgs
Magnification Range:  On 24" LCD (1.7x-30.6x)
Power Supply:  Power supply is 100-240V~, 50-60Hz, 9VDC, 2.6A
Battery Life:  More than 2 hours of continuous operation.
Equipment Classification (IEC 601-1):
Type of Protection: Class 1

Degree of Protection: Type B

Mode of Operation: Continuous

Operating temperature range: 0-40°C / 32-104°F

Storage/transport temperature range: 0-60°C / 32-140°F
Warranty: 2 Years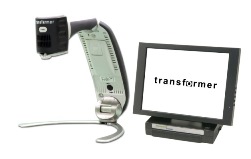 Transformer with Portable Monitor
Learn more at Portable Monitor