HD Magnification in an Ultra-Portable Package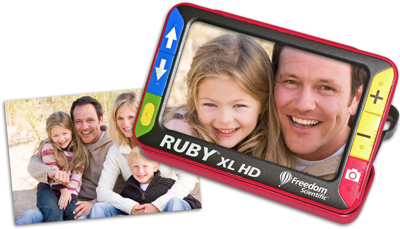 The all-new RUBY XL HD puts crystal clear, high-definition magnification in the palm of your hand. At just 10.5 ounces, the slim RUBY XL HD goes anywhere with you. The five-inch screen brings out even the finest details. You can magnify materials up to 14 times – books, photographs, newspapers, medications, labels, and more. The 20 high-contrast color viewing modes let you adjust text to be easy on your eyes.
Features at a Glance:
5-inch widescreen LCD
2x -14x continuous zoom
Built-in reading stand
Easy flip-out handle
Fast reading with no blur
Lightweight design at 10.5 oz.
3 hours continuous use
20 high-contrast color viewing modes
Freeze Frame with adjustable magnification
Save up to 80 images and send to computer with USB
Reading Line and Masks
Read comfortably for hours using the built-in reading stand or two-position flip-out handle.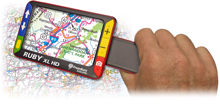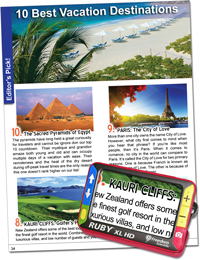 Flip-out Handle                                                                   Built-in Reading Stand
Save Images and Transfer Them to Your PC – A push of a button freezes the image so you can bring it closer for viewing. You can save 80 images – such as phone numbers, serial numbers, and family pictures, and even transfer them to your computer by connecting the RUBY XL HD via USB.