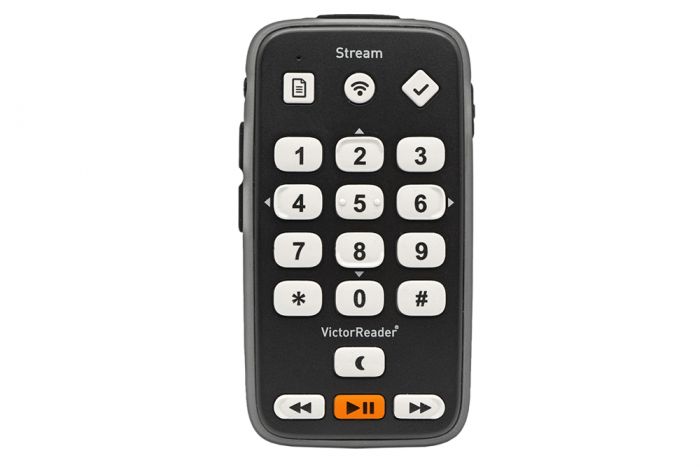 Victor Reader Stream 3 – Handheld media player
A pocket-sized digital media audio player to harness the power of wireless content access
Featuring a fully tactile interface, the Victor Reader Stream 3 is a handheld digital audio player to enjoy your media content. This assistive device lets you listen to books, newspapers, web radio, music, podcasts, and other online resources. Simple to use for anyone who is blind or living with a visual impairment, the Stream talking book player packs all your media into place and gives 15 hours of battery life, leaving more time to enjoy media content.
How does this product change your life?
With Victor Reader Stream, it's so easy to take your books, music, and more wherever you go. Imagine being able to listen to the latest novels, magazines, or your favorite music, podcasts, and your own voice recordings, all in the palm of your hand. With its sleek, compact design and easy-to-grip edges, the digital media player gives you hours of listening wherever you are and a superior text-to-speech experience in multiple languages.
Combining versatility and ease of use, the Victor Reader Stream is specifically designed to make reading easy. More than just an audio player, its wireless capabilities will open up a world of possibilities.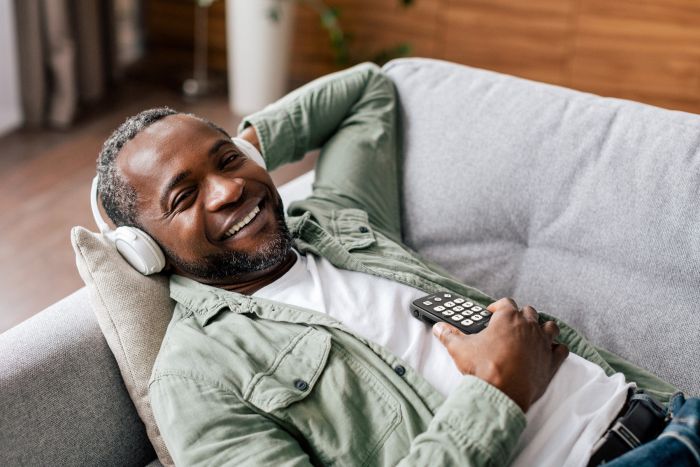 Specifications:
Functional specifications
Direct download or transfer books from dedicated libraries
Internet radio streaming or transfer content to listen offline
Access Wikipedia
Bookmark content
Audio recording
Connects to Wi-fi or to a computer
Bluetooth to connect to headphones or speakers
Online or offline modes – no need for data sim card to use the device
Numeric keypad and specific key shapes for different functions
Simple navigation
Browse DAISY books by chapter, section, or phrase
Move through text files by paragraph, sentence, word
Go To Page key finds pages just like turning to a specific page in a printed book
Never lose your place: your VR Stream automatically resumes where you left off
Bookmark important passages — even record your own voice annotations
Navigate MP3 books and music by folder or file
Playback speed control
Sleep key – playback stops if you fall asleep
Information key announces book title, time elapsed/remaining, total pages and more
Where Am I key announces reading position such as page, chapter, or song title
Key describer announces the functions of each key
Battery recharging time: 5 hours via AC adapter
Battery autonomy: 15 hours
Libraries
Direct libraries: NLS Bard, Bookshare, NFB Newsline
Daisy online libraries in 9 countries: Australia, Belgium, Canada, Denmark, France, The Netherlands, Norway, Poland and Sweden
Languages
English – French – Danish – Dutch – Italian – Norwegian – Polish – Spanish – Swedish
Physical specifications
Dimensions: 114 x 62 x 18 mm (4.5 x 2.4 x 0.7 in.)
Weight: 110 g (3.9 oz) including battery
Technical specifications
Text-to-speech: Acapela (2 voices) to play brf, txt, html, xml, DOCX, EPUB
DAISY formats supported: 2.0, 2.0.2, and ANSI/NISO Z39.86 2002/2005 (DAISY 3)
Audio formats: MP4-AAC, AMR-WB+, FLAC, MP3, Ogg Vorbis, Speex, WAV
SD card slot supports up to 1TB SD, SDHC or SDXC cards (exFAT is recommended for cards above 32GB)
Li-Ion battery: Rechargeable via USB or USB AC adapter
Built-in speaker and 3.5 mm headphone jack
USB-C port for connecting to a computer
Recording format: PCM, Wav, MP3
Microphone: Built-in mono and 3.5 mm stereo jack
Power/data jack: USB-C
Firmware upgrade via SD or online
Real-time clock with date/time announcement
Bluetooth 4.2
What's in the box?
Victor Reader Stream Device
Power adaptor
USB-C cable (long)
Medical information sheet