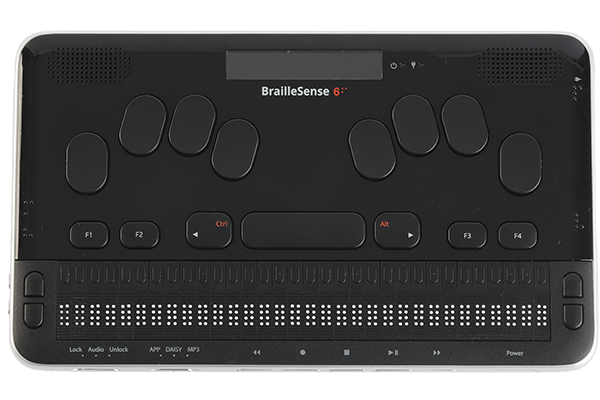 The BrailleSense 6 is the most powerful braille notetaker in the world.
Designed with the fastest hardware and powered by Android 10, it is the ultimate notetaker.
Android 10 – The latest operating system in a braille notetaker
Octa-Core CPU – Increased performance for multitasking and meeting demands of powerful apps
128 GB Storage – For keeping all of your files with you, no matter the size
6 GB of Memory – For when you need to get things done fast without the lag
Share Visually with USB-C – Ditch the screen and share visually with a single cord, just as it should be
Ultimate Connectivity – Mix audio tracks, live stream video, and more with off-the-shelf peripherals
Specifications:
OS: Android 10
CPU: 8-Core High Performance CPU
Internal Storage: 128 GB
Memory: 6 GB LPDDR4X
Card Slot: Full-Sized SD Card
Dimensions: 9.65 x 5.67 x 0.87 inches
Weight: 1.58 lbs, 2.3 lbs with case
Battery: 4590 mAh, Removable
Charging: USB-C, 5V 2.4A
Keyboard: Thickness Membrain Perkins and 4 Function Keys
Other:  Lock Switch, Mode Switch, Media Control Keys, Volume Buttons, Power Buttons
Wi-Fi: 802.11 a/b/g/n/ac
Bluetooth: 5.1 dual mode for LE and Classic
GPS: GPS/Glonass/Beidou/Galileo
FM Radio: 65 ~ 108 MHz with 50kHz step
USB: 1x USB Type-C 3.1 Gen 1 Device Mode, 1 USB Type-C 3.1 Gen 1 Host Mode, 2x USB Type-A 2.0 Host Mode
Video Out: USB Type-C (DisplayPort 1.2)
Video Resolution: 1920 x 1080
Rear Camera: 13 MP, Autofocus, LED Flash
External Camera: Supports the use of plug-and-play USB cameras
Speakers: Stereo, 2 Watt
Microphone: Stereo, Omni directions
3.5 mm Jack: 1x 4-pole Headphone, 1x stero Microphone
Sensors: Accelerometer, Gyroscope, Magnetometer (Compass)
Warranty: 1-Year, parts and labor
Product Maintenance Agreement: Optional, add up to 1 additional year of coverage.
Mainstream Speed
When you need things done, the BrailleSense 6 gives a whole new level of power.
With an 8 core CPU and 6 GB of memory, you will experience performance you have never felt in a braille notetaker.
2X More – CPU Cores than the next leading braille notetaker.
50% More – Memory than the next leading braille notetaker.
100% More – Storage than the next leading notetaker.
Software at Light Speed
The BrailleSense Polaris included our custom applications that made it a great choice at school, at work, and at home. Those same applications are available on the BrailleSense 6 and perform shockingly fast.