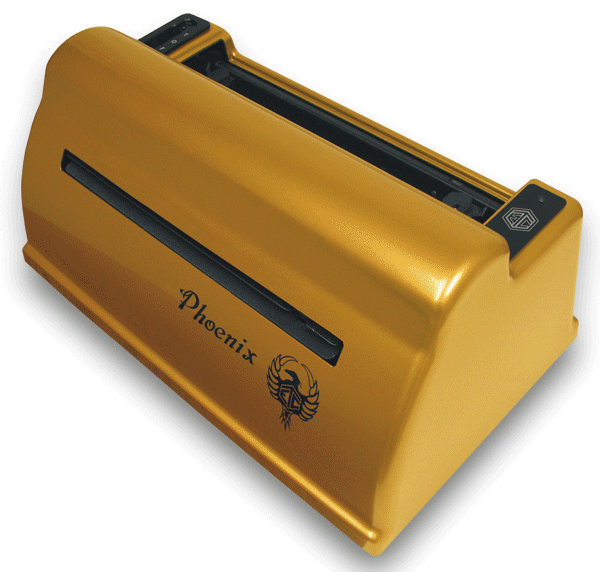 Important Announcement! We are pleased to announce that the Phoenix has been newly designed. It has the same great features of the original Phoenix including the capabilities to emboss single-sided Braille text and high-resolution graphics up to 25 DPI, in a simple to use format. It even has the capabilities of embossing PRN files. The newly designed Phoenix is smaller and lighter, with an auto-install feature to make setup even easier.
Imagine the ability to scan your pictures, graphs and charts into your computer and with a few clicks of the mouse, emboss those images in high definition tactile graphics without compromising the quality of your Braille text.
This is now possible with the Phoenix Embosser and Firebird Software Suite (included FREE with the Phoenix) available from Enabling Technologies!
The Phoenix is our ninth generation of Braille embossing technology that combines our durable and legendary Romeo Braille Dot with a proprietary 25 DPI tactile graphics embossing system. All in one embosser! Now, there is no longer a need to settle for poor quality Braille text to achieve high definition tactile graphics, as is the case with most other products on the market.
The Firebird Software Suite, included with the Phoenix, is a comprehensive set of productivity tools that powers the Phoenix Embosser. The Firebird Software Suite includes the Firebird Graphics Editor that provides you with a comprehensive list of automatic tools to effortlessly create tactile graphic images. The Phoenix Embosser is also compatible with your existing Braille translator (update may be required).
The Phoenix Embosser employs two separate embossing heads.
One embossing head produces high quality single sided standard LOC Braille AND Dynamic Braille Scaling (DBS). In addition to producing LOC Braille, DBS will allow you to produce Braille in other formats including Jumbo, Petite, CA sign, and Marburg.
One embossing head produces Super High Resolution Graphics at 25 DPI
The Phoenix comes with a limited factory warranty* of one-year or 75,000 pages, USB cable, line cord, Quick Setup Guide, CD-ROM with user manual, printer driver, Firebird Software Suite, User Interface Application, toll-free customer support and/or email support. Annual Service Maintenance Agreements (SMA) for the Phoenix are also available for purchase.
*Limited factory warranty is for one-year or 75,000 pages, whichever comes first. Limited warranty covers parts, labor and round trip shipping, caused by manufacturers defects. Limited warranty does not cover defects from improper use.
Printing:

Printing Speed Text Side: Single Sided up to 50 characters per second.
Printing Speed High Resolution Graphics Side: Up to two pages per minute.
Line Width: 45 characters (maximum)
Paper Width: Adjustable 1.5 inches to 12 inches (3.8 to 30.5 cm).
Page Length: Selectable 3 inches to 14 inches (7.6 to 35.6 cm).
Paper: Continuous tractor feed paper.
Paper Weight: 100-pound traditional Braille paper (recommended).
Has 9 hammers (solenoids) per side, producing graphic or text Braille more efficiently.
Physical Description:

Width: 19.75 inches (50.17 cm).
Depth: 11.75 inches (29.85 cm).
Height: 9.5 inches (24.13 cm.)
Weight: 21 pounds (9.53 kg).
Case Style: Desktop.
Environmental:

Temperature: Operating or Storage: 35 F to 100 F (2 C to 37.8 C).
Humidity: Operating or Storage: 10% to 95% non-condensing.
Electrical:

Line Voltage: Universal, 105 to 260 VAC.
Interface: USB, Ethernet Network.
Compatibility:

Windows Operating Systems from Windows XP through Windows 7 64-bit and Windows 8.
Requirements (not included):

Computer with Windows XP or higher operating system.
Braille Paper.
Braille translation software (with updated embosser support for Phoenix, check with your Braille translation software manufacturer for additional update information).