Highlights
120 characters/second – fastest wireless cut-sheet braille printer at the price!
Quality double-sided braille – Library of Congress standard
High-resolution tactile graphics – 8 dot heights for greater detail
Automatically translate & emboss directly from a computer or mobile device
Cut-sheet/individual-sheet paper – for the widest selection of media!
Emboss documents, business cards, braille labels and more!
Compatible with Windows, Mac, iOS and Android
The IRIE BrailleSheet 120 gives you fast, high-quality braille and tactile graphics at your fingertips! Embossing at 120 CPS this double-sided embosser gives you Library of Congress standard braille, the highest-resolution tactile graphics and allows you to emboss directly from your computer, smartphone or tablet!
The IRIE BrailleSheet 120 also offers the widest variety of media possible. Utilizing a unique individual sheet feeder, users can emboss documents on standard braille paper as well as use mainstream media to create braille labels, double-sided braille business cards and more! Even use 11×17 paper to make foldable braille books, instantly.
Producing custom tactile graphics has never been easier! With 8 different dot heights you can fully customize images to get the most readable tactile graphics. Fill images with different patterns/dot heights to provide more detail or change the dot heights on graphs to make gridlines less prominent and the graph easier to read.
Do you need to emboss an email or appointment from your phone or tablet? With wireless printing capability the IRIE BrailleSheet allows you to emboss directly from your mobile device. Access any Android or iOS app that lets you print and have it automatically translate and emboss for you! It's that easy! You are no longer limited to only embossing documents made on a computer and saved in a specific format but can emboss directly your web browser, email, appointments, to-do lists, photos, Dropbox, AllRecipes, Drawthings, Pinterest and hundreds more!
Whether you need to emboss documents, braille labels, business cards or even long book the IRIE BrailleSheet 120 is the answer! And being the most versatile braille embosser on the market, it's a great choice for home use or volume production. Use standard cut-sheet office media for all of your embossing needs and you won't be disappointed.
Better Braille Dot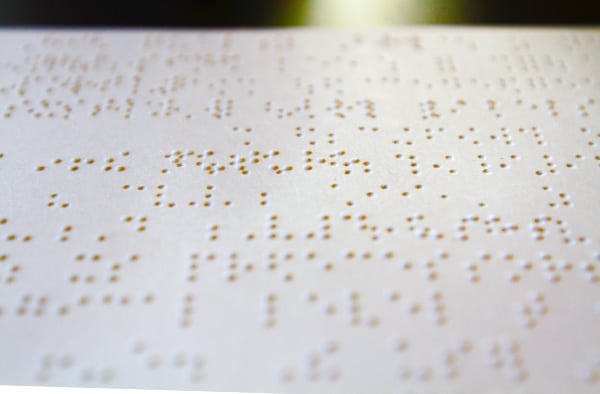 IRIE embossers not only produce high-quality Library of Congress standard braille but within those parameters also offers three different braille dot heights allowing users to customize their documents to better suit individual needs. This means that users who have greater sensitivity can lower the braille dot height to a more comfortable level and braille readers with less sensitivity can raise the dot height offering greater flexibility for all
High-Resolution Tactile Graphics
IRIE embossers offer high-resolution tactile graphics. With 8 different distinctive dot heights users can transform images into readable tactile graphics. The dot height is automatically adjusted based on the visual color of the image. The darker the color the higher the dot and the lighter the color the lower the dot making it easy for users of all skill levels to make custom tactile graphics.
The eight different dot heights also allow you to add more details to images and diagrams. You can easily make a map more readable by filling the interior state or country with a low dot height or pattern while leaving lakes or bodies of water with no fill for enhanced readability.
Better yet, you can use any type of graphics software to do the customization. Use standard graphics software such as the Adobe Design Suite or CorelDraw or use popular tactile graphics software such as TactileView, Tiger Designer or Quicktac to do dot-by-dot editing or add braille and math labels too!
Wireless Embossing
Wireless printing has never been easier with the IRIE GoBraille.
Connect the GoBraille to your embosser
Connect the GoBraille to a current wireless network or create a local connection between the GoBraille and embosser
Open any program or App that lets you print and have your materials automatically translated to braille and embossed.
It's truly that easy! You don't need a special program, file type or application; just open your email, web browser, notes, or any app that prints and have your documents embossed just as they would with a standard ink printer.
Fast, Local Support
IRIE embossers are built to last with robust hardware that extends the life of the embosser and with a local US Headquarters you can be assured that if an issue does arise it will be resolved quickly – usually within one working day.  You never have to pay more for great, fast service for IRIE embossers.
Our friendly staff are always happy to hear from you so please give us a call if you have any questions or need assistance with setup and installation.
Additional information
Dimensions
Height: 6.2 in (158 mm)
Width: 21.9 in (557 mm)
Depth: 10.8 in (275 mm)
Weight
19.8 lbs (9 kg)
Noise
< 60 dB(A) with sound enclosure
Paper type
Stacks of Cut-Sheet Fed Paper
Paper weight
33 – 120 lb (90 – 200 gsm)
Paper width
7 – 12 inches (176 – 292 mm)
Braille/Embossing
120 cps double-sided
3 braille dot-heights available
Braille cell
6 and 8 dots
Tatcile graphic resolution
Up to 100 DPI
8 dot heights for color representation
User interface
Multilingual speech feedback
USB
USB 2.0
Network
100 MB standard TCP/IP
Temperature
59 – 95 °F (15 – 35 °C)
Voltage
100 – 240 V AC
Power Supply
85 – 264 VAC
50/60 Hz (+/- 3%)
Standby: 20 W
Heavy Embossing: 200 W
Warranty
1-Year, Parts and Labor