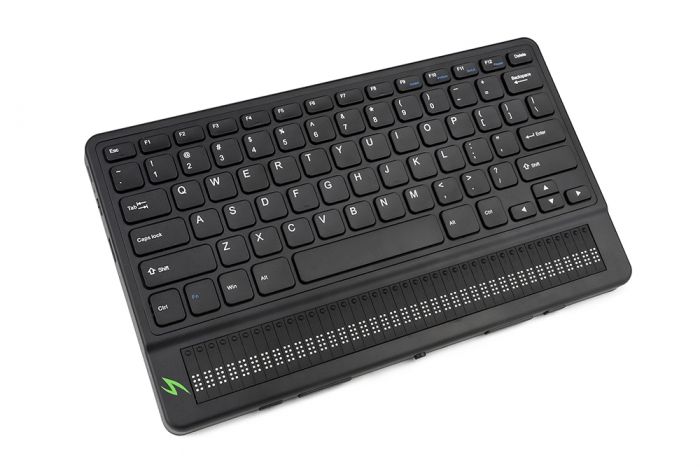 The first–of–its–kind integrated keyboard and refreshable braille display
The Mantis Q40 is the first-ever Bluetooth® QWERTY keyboard and 40-cell refreshable braille display that you can pair with your screen reader or smartphone or simply use as a standalone device. Either way, you have braille at your fingertips, every time.
How does this product change your life?
The Mantis Q40 is a complete all-in-one, laptop-sized QWERTY keyboard with a built-in, refreshable 40-cell braille display that you can pair with your screen reader or smartphone via Bluetooth and USB connections.
As you tap the keys on the laptop-sized Mantis, the refreshable braille line under the keyboard delivers braille reinforcement to your chosen screen reader simultaneously. The product is slim, lightweight and fits easily into a laptop sleeve. On the go, the built-in memory and Editor application allow you to turn it into a standalone braille reader and notebook. Once connected, access online libraries to upload your favorite books.
With the Mantis Q40, you no longer have to choose between a keyboard and a braille device. It's a truly innovative tool that makes it easier for you to get involved and get things done.
Functional specifications
Qwerty keyboard with 40 cells braille display
Connects to 5 Bluetooth devices and 1 USB device simultaneously
Onboard applications to be productive like Daisy book reader
Compatible with several file formats including doc, docx, txt, brf, brl, pdf and more
Government mode (optional on purchase)
Exam mode
Access to online participating libraries including Bookshare
Onboard braille translation
HumanWare signature thumb keys
Battery life: 20 hours
Applications
Editor
Terminal
Date and time
Online library
Library
Calculator
Screen reader compatibility:
JAWS 18 and above,
Dolphin SuperNova,
NVDA,
VoiceOver iOS,
MAC iOS
Supported languages
English
French fr
French ca
Dutch (language only)
German
Spanish
Italian
Slovenian
Swedish
Norwegian
Czech
Portuguese Brazil
Physical specifications
Device weight: 950 g (2.1 lbs)
Device dimensions (w x d x h): 290 x 170 x 20 mm / 11.4'' x 6.69'' x 0.78''
Removable battery
Technical specifications
32-bit ARM based Cortex®-A, 536MHz processor
4 GB of RAM memory
16 GB of internal storage to serve as the boot device, firmware and data storage
Rechargeable and user replaceable Li-Ion Battery
USB device high speed interface for connection to a computer and recharge
Real Time clock with battery backup
User accessible SD card socket
Wireless Bluetooth 4.2 module (dual mode)
Wireless Wi-Fi module (2,4 GHz)
Haptic feedback
What's in the box?
Mantis Q40 braille display
USB-C charging cable with power supply (works with any USB charger, but may charge slower)
User guide (stored on the device)
TPU case (green)
Printed quick start guide